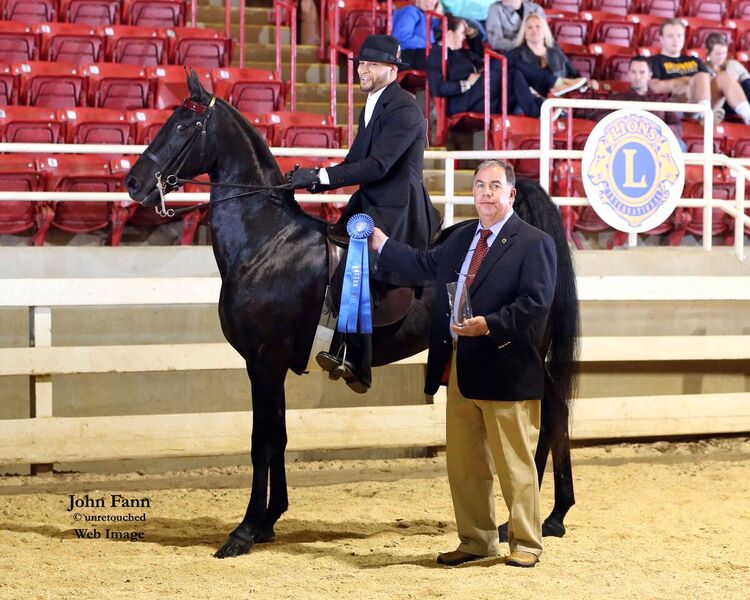 By Charlene Clark
Thirty-one year old Andrew Pearman passionately shares his first experience with horses. It wasn't while growing up on a horse farm or stables, but anytime he saw the majestic creatures, this toddler (under the age of three) would gingerly yell "horsey" and freak out and his parents had to stop so he could see them.  His mother shared with this first generation horseman that his first word was not "Mommy" or "Daddy" but "Horsey".  It was then that his family saw his love and passion for these hoofed mammals with flowing manes and tails.
Andrew began riding at the age of 5. He describes the bonding of horse and man as "body language".  The lack of verbal communication from the horse makes you rely on touch and feel, showing spiritual trust with time spent with them.  When asked the question, "Why do you ride?", Andrew said he loves the excitement of mounting a 1,000 plus pound wild steed with unpredictable expectations.  The American Saddlebred fits his need for power and prestige. These breeds stand at a range of 15 to 17 hands and weigh 1,000 to 1,200 pounds.  Their look is distinctive, with well-shaped heads, straight posture, long, slim seahorse-arched necks, defined withers, slope formed shoulders, good leg conformation, strong level backs, well-sprung ribs and the croup level with a high-carried tail.  The Saddlebred is spirited, powerful and edgy, yet can display a gentle side.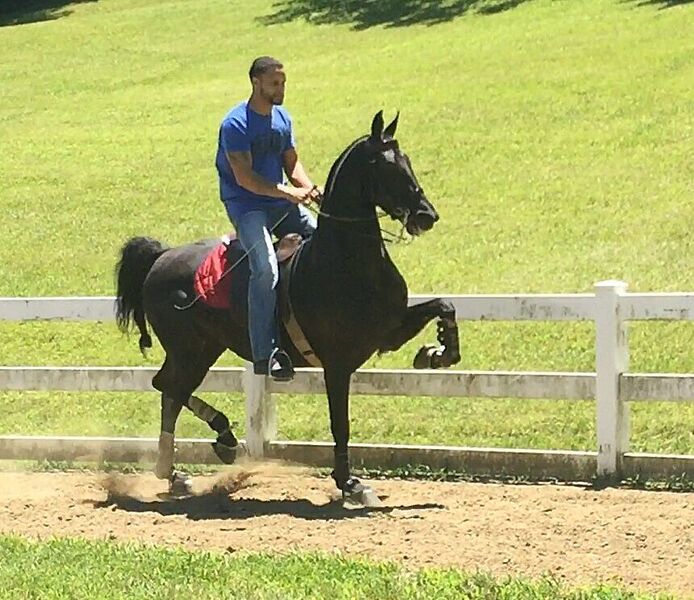 Andrew originally began his equine experience with Arabians. His style is "saddle seat", which is English riding that shows off the high action of the horse's gaits.  Breeds that are commonly exhibited in this discipline are Arabians, Paso Finos, Morgans, Tennessee Walking, National Show Horse and the Saddlebred.  To Andrew, the Arabian breed is elegant, beautiful, free moving, and with big motion.  In the North Carolina area there wasn't a big presence of the Arabian breed for showing.  A good friend in Concord, NC had Saddlebred horses, but Andrew felt the two didn't compare.  However, after spending time around the Saddlebred he saw how athletic and natural they were.  He loves the grace, beauty and elegance of the three-gaited Saddlebred horse.  In motion with the walk, trot and canter, this class is his favorite.
When competing, Andrew admits he is nervous, and when he hits the show gate, he seeks perfection from himself and feels the rider controls the actions of the mount, good or bad. Having played football, Andrew knows about the pressures of winning and the mental and physical attributes needed to play the game intensely with aggression. While riding, however, he must harness his emotions, seeking to spread calmness to his excited Junior Mare so she projects the epitome of grace, beauty and elegance.  Andrew is not beyond using his rituals prior to showing: he wears his favorite hat (under his show hat) with the name of his favorite band The Green.  The Green is a reggae band that blends reggae and  Hawaiian vibrations, with a smooth, silky sound and bold beats.  Then he incorporates Latin music (he likes the soundtrack from the movie The Chef) signified by the groove, sassy, sultry sounds with rhythm and character, rich in musical flavor.  He says these are not superstitions, just his "ritual".
Andrew's most memorable showing was the Asheville Spring Premier. Going into the arena, his mare was one bigger and the best she had ever been. He describes the wavering of her legs and the elevation of her gait, as he glanced down, as one of the most incredible feelings in his life.  Andrew seeks that euphoria again. That intense excitement of success fuels his desire to continue his participation in the Saddlebred shows.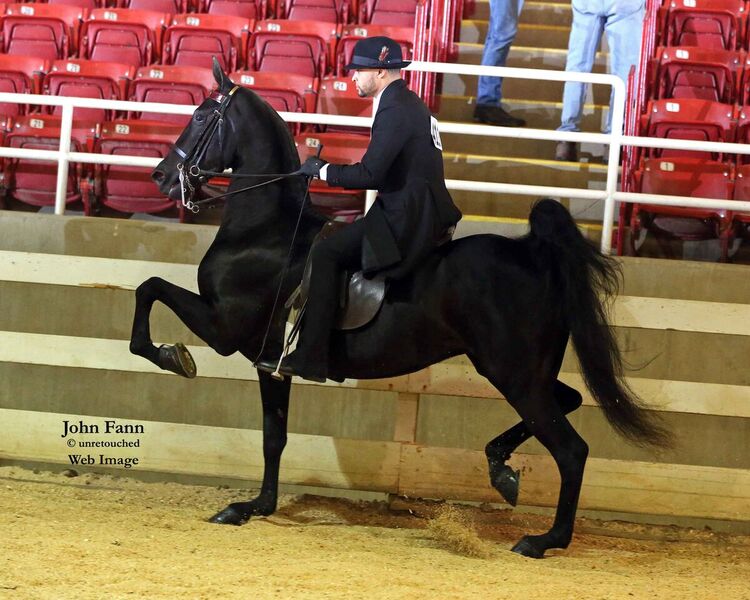 Success comes with patience and Andrew now understands horsemanship is not a sprint, it's a marathon, and it's a long and sometimes difficult task that offers highs and lows. He knows it's teamwork, as he correlates it to the sport of football.  Each rider & horse showing is another game to be played giving your best, learning from your faults, and enriching the process.  While some are natural at horsemanship, Andrew stressed the importance of a good  trainer.  There are basic skills necessary when riding an animal, much unlike the process of riding a bike. Once you learn bike riding, you just get back on it, no matter the make or model; conversely, each  time you saddle up, that horse is a living mass of power with moods,  behaviors and different ranges of tolerance.  It's a skill that takes lot of practice and patience each time.
I asked Andrew about his short- and long-term goals and discovered that one of his short-term goals is to find a trainer with shared interests and other common features. This person must also be a good fit for his family, which consists of his beautiful wife and three young children.  He knows that horsemanship isn't just about him, but his loved ones too; it's a family affair and everyone around you is affected.  Andrew acknowledges that his wife isn't an avid horse person, but she supports his passion.  One of Andrew's long-term goals is to show in Louisville, Kentucky consistently and be competitive in the Gentlemen's Three-Gaited class.  The World's Championship Horse Show is held annually in Louisville, Kentucky and awards world champion Saddlebred in different divisions.  This show attracts people from across the world and includes over 2,000 horses in competition for over $1 million dollars in awards by a panel of equestrian judges.  This is where world champion titles are earned.  His other goal is to breed his mare with a couple of good stallions, namely Undulata's Nutcracker, a fifteen-year top World Champion Sire that has produced 108 World Champions. This will help him secure a winning position in the show ring because offspring from a gifted pedigree generally shows traits from both dam and sire.  Years from now, he wants to be able to say that mare "Mink", a two year old he bought from the field, was the beginning, the grandmother of future champions.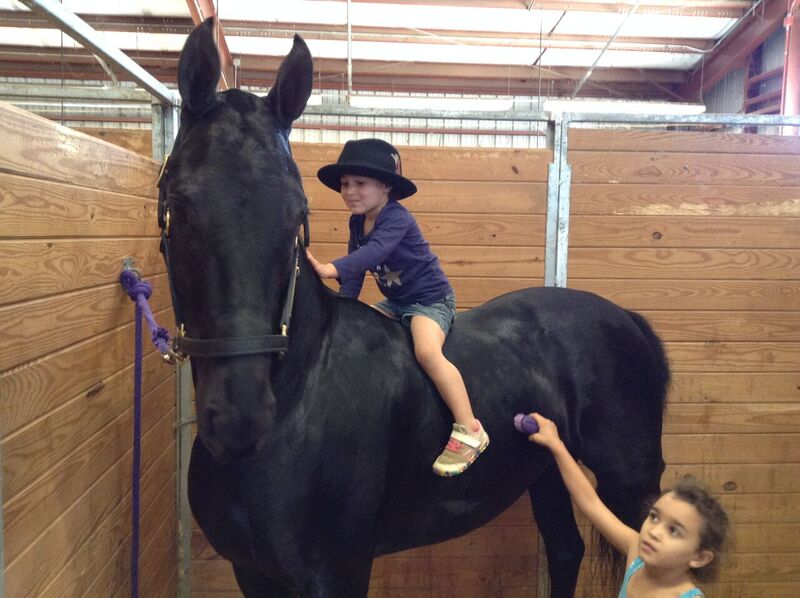 While Andrew owns, operates and trains athletes at Horsepower Elite, his other work activities are Lillyan (5 years), Sonora (3 years) and Andi Jayne (1.5 years), his three youngest children, and Myles, his 12 year old son. He starts at 5am while his wife (Shannon) begins her day as a school teacher, he runs all day with little girls, and then he is back at the gym from 5pm-10pm.  He also coaches his son's eight grade football team as offensive coordinator. His kids keep him very busy and while sometimes being spread thin, his responsibility as a family man and dad come first; his passion of horses next.  He works hard both in and out of the show ring while being there for his children too.
Let's talk about Andrew's mare, "Walterway's Think Again" aka "Mink", acquired from Tennessee. When he had Arabians, he had a few brood mares and thought about a National Show Horse which is bred with a cross between an American Saddlebred and an Arabian.  That's when he found his favorite stallion of all times, "Exalted Effect".  Mink was sired by Exalted Effect and she is a dream come true for him.  Mink is black in color, three gaited-trained with a trimmed mane of lots of motion, great mind and a great disposition.  She is a special horse and he feels she is the best horse he has ever had.  This year she was shown in Junior three (3) gaited class for four (4) year and younger horses. Andrew states God had blessed him big time while he was into Arabians, and he progressively kept getting better and better horses. His wife heard that a lot, but it became true.  The bar has been set high for him with the ownership of Mink.  There may be better horses out there, but she fits the bill for Andrew, with athleticism, size, disposition, and trainability.  She's everything he wanted and he feels blessed.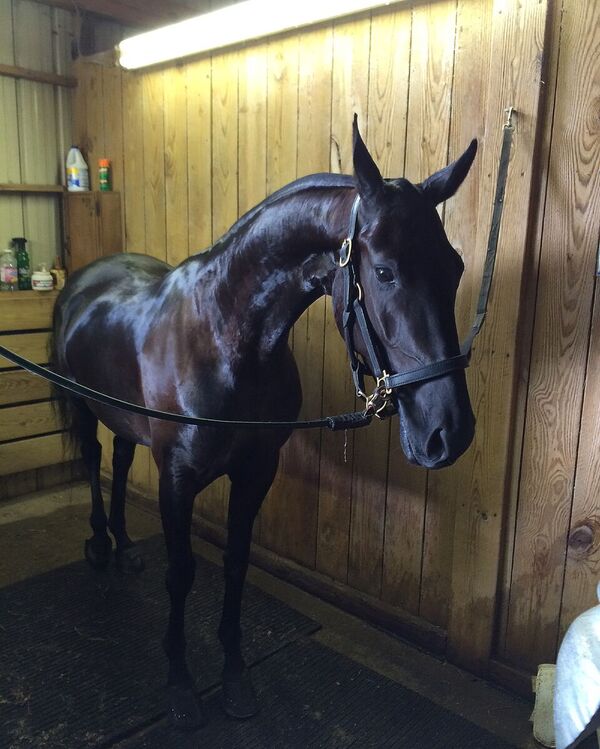 Both Andrew's father and brother played college football and continued into the NFL. His father was with the Baltimore Colts and Green Bay Packers, and his brother was with the Jacksonville Jaguars, Seattle Seahawks, and Tennessee Titans.  He was on a similar path but football was never his passion.  His family knew this, and he played the game as long as he could without trying very hard, but he wanted to make his dad proud. While his dad watched his brother play in the NFL, he thought that's where his dad wanted him to be but the zeal just wasn't there.  It takes mental, physical and strong raw desire to play the game of football at any level.  Andrew's inspiration is to show in the "Super Bowl" of horses, "The Pros of Equine" to make his father proud.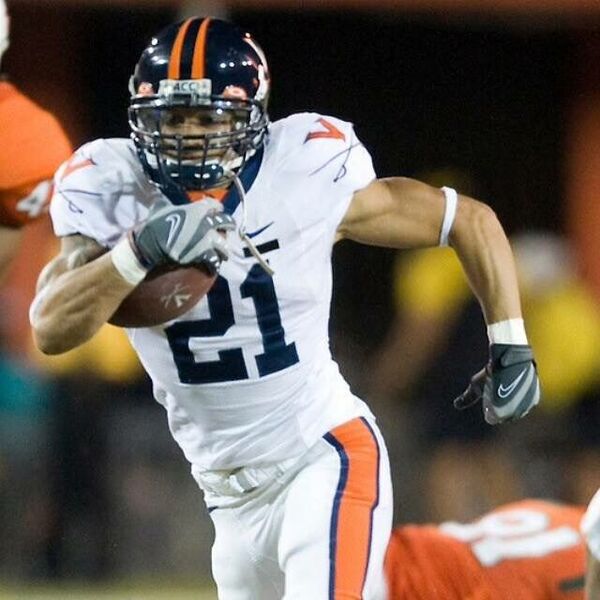 Andrew is self-motivated. He admits he's not one of the "big dogs" of a Fortune 500 corporation.  He has day-to-day challenges that come with being self-employed and having the responsibilities of a husband, father, and ownership of a Saddlebred horse.  He competes every day, and knows what he wants to accomplish and what it takes to get there. He must depend on his horse and get the best training.  His goals are set high, his dreams are BIG.  His biggest supporter along for the ride, his wife Shannon, keeps him grounded but allows him to follow his passion.