On the Trail of Ancestors: A Black Cowboy's Ride Across America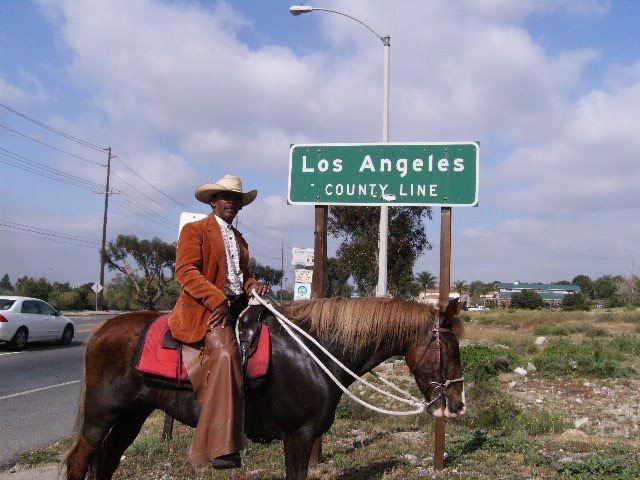 By Lisa K. Winkler
Growing up black in Brooklyn, NY and later Newark, NJ in the 1950's, Miles Dean wanted to be a cowboy. He galloped through the streets on his bicycle, ambushing outlaws on street corners, imitating the heroes he watched in television westerns.  But he didn't think horseback riding was something he could do as no one he saw on television looked like him.
Not until he turned 23 and saw Sidney Poitier portray a trail guide in the 1972 movie Buck and the Preacher, did Dean realize he too could ride horses.
More than three decades later, he rode Sankofa, his 12-year-old Arabian stallion, from the African Burial Grounds in lower Manhattan, to the California African American Museum in Los Angeles. Dean, a Newark, NJ schoolteacher, used an unpaid leave of absence to follow his childhood dream: his 5,000 mile- journey through 13 states took six months.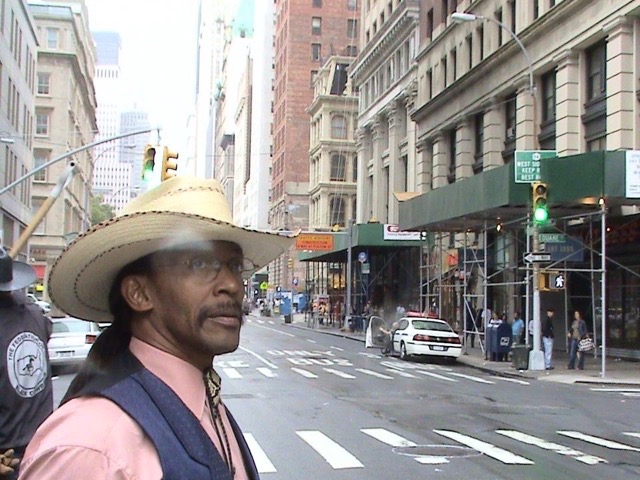 I met Dean while working as a literacy consultant in Newark, NJ. It was the fall of 2008, a few months after he'd returned from his ride and resumed his job as middle school teacher. His classroom was like none I'd ever seen in my years in education. A western saddle sat upon a bale of hay. Bridles, chaps and cowboy hats decorated the room and posters with slogans like "Take A Ride with Me to Literacy" accompanied photographs, many of Dean atop a horse, lined the walls.
Immediately, I became fascinated with the idea of riding a horse across the country and with the man who undertook this incredible journey. As I talked to him, I learned he'd been dreaming of this trip for decades and when he finally set off was determined to share what he learned about African Americans' contributions to the history and development of the United States with his students.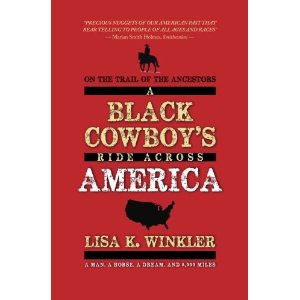 As a journalist and educator, I knew he had a powerful story and message that I wanted to tell.
First, I wrote an article for Smithsonian magazine's website about the black jockeys. http://www.smithsonianmag.com/history-archaeology/The-Kentucky-Derbys-Forgotten-Jockeys.html I researched and read, driving to distant libraries to locate various books.  Then, I approached Dean about writing a book about his journey.  I began interviewing him, piecing together the journey both through chronology and geography. I researched more as we talked about each state and historical site he visited and validated his stories by calling or writing to people he met along the way.
 On the Trail of the Ancestors: A Black Cowboy's Ride Across America http://www.amazon.com/Trail-Ancestors-Cowboys-Across-America/dp/1468123920/ref=la_B007A253PI_1_1?s=books&ie=UTF8&qid=1487886345&sr=1-1 allows readers to put spurs on their feet and climb in the saddle to ride with Miles Dean as he rode across the nation. This inspirational story is harrowing, humorous, and humbling. Through Dean's daily regimen of riding his horse, the reader witnesses the physical and emotional discipline required to complete such a journey, and shares Dean's triumph when he does.  Dean's story demonstrates that an ordinary person can accomplish the extraordinary.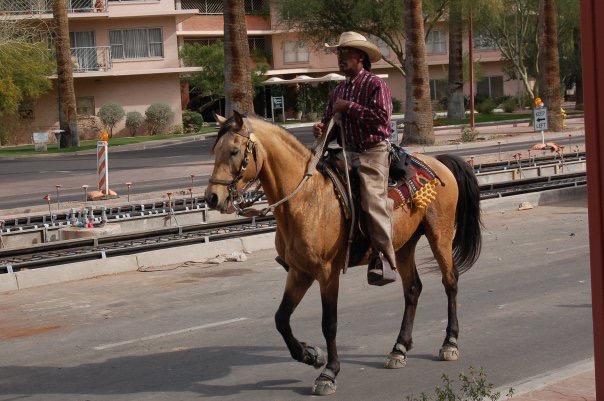 Dean's commitment to his journey helped him battle a brain tumor; his gratitude to his ancestors fortified his resilience; and his integrity to honoring heroes in history via his horse kept him on road.  The book resonates with animal lovers, horsemen and women, armchair travelers, and with educators, parents and young people who are part of the African American community, or connected with it. For all Americans, this book illuminates the contributions of many unknown heroes in history- black jockeys, abolitionists, cowboys, US marshals, and more.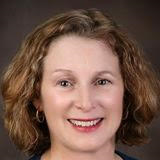 Lisa K. Winkler is a writer and educator. She's available to speak to youth groups about On the Trail of the Ancestors and has written a multi-disciplinary Educator's Guide to accompany the book.
http://www.amazon.com/Educators-Guide-Ancestors-Multi-disciplinary-Students/dp/1508595011/ref=sr_1_1?s=books&ie=UTF8&qid=1487886553&sr=1-1&keywords=black+cowboy%27s+educator%27s+guide
Source: Lisa Winkler http://www.Lisakwinkler.com