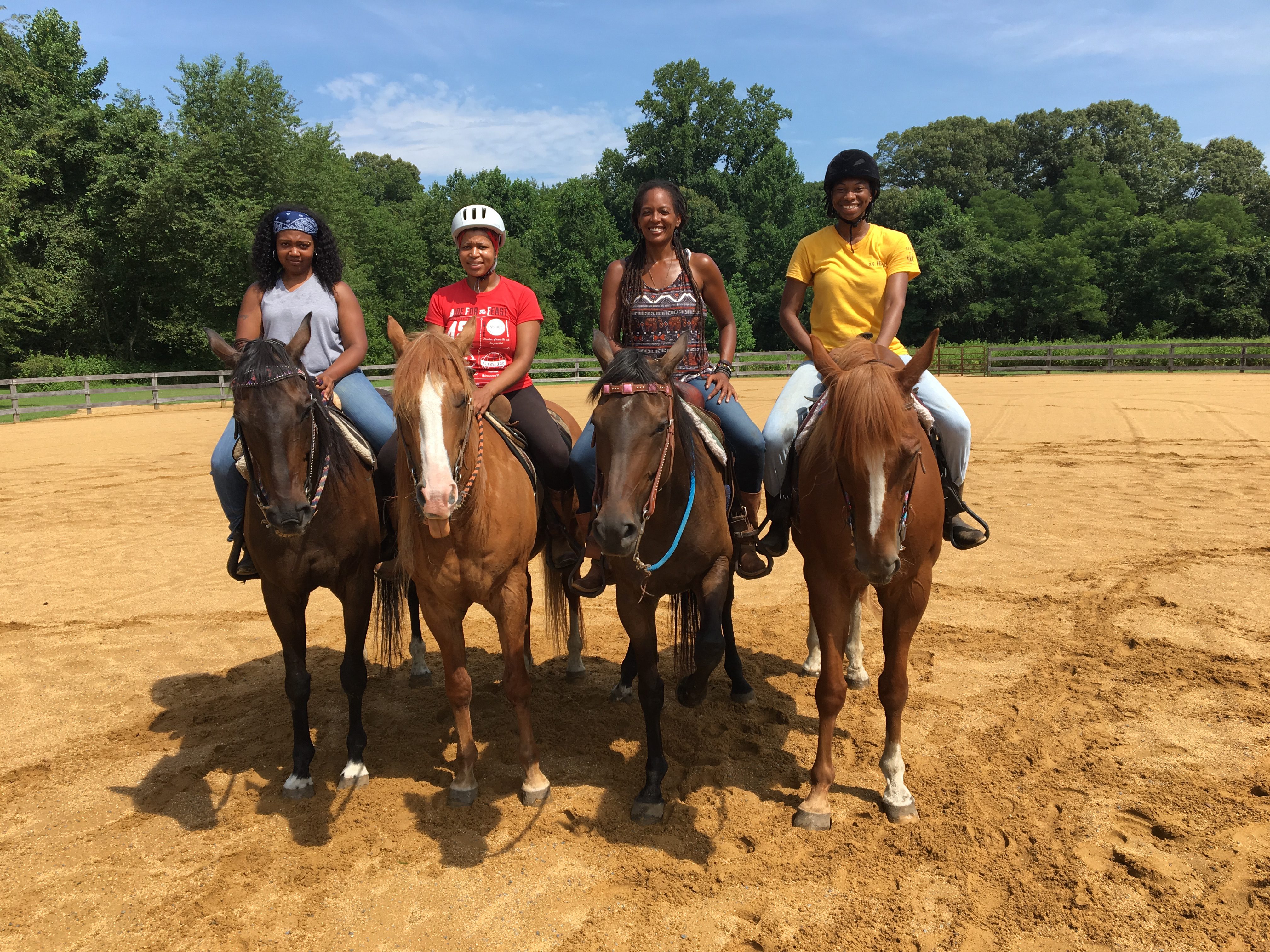 By Caitlin Ann Gooch
We all know that there is an all black female rodeo team but what do we know about the horses they ride?
Rodeo relay is similar to track and field but the riders pass the baton on horseback. Teams consist of four riders and four horses. The four horses that the Cowgirls of Color sit upon have fascinating backgrounds. Wind Walker, Sandman, Yankee Girl, and Daystar belong to Cowgirls of Color's trainer, Ray Lockamy. To ensure a smooth transition between each handoff, Lockamy has paired each horse and rider for a specific position based on their personalities. "Horses are spirited and they get emotional. It works best when the rider matches the horse," says Lockamy. In the case of the Cowgirls of Color, the order the horses run is based on their relationship with each other in the pasture. Daystar runs the first leg, followed by Sandman which is his pasture buddy. Third running is Yankee Girl and coming to catch her is her "boyfriend", Wind Walker. Typically, quarter horses are used for relay but half of this team are thoroughbreds. So, what makes these horses so special?
Daystar, ridden by Brittaney Logan, is a thoroughbred rescue horse built for speed. He was unable to go to the race track and was given to Lockamy at 6 months old. Sandman, ridden by Takia Gaylord, is a purpose driven quarter horse. Once he understands what he is supposed to do, he does it effortlessly. Being that he put a foal on the ground before he was castrated, he has a stud mentality. Yankee Girl, ridden by Kisha Bowles, is another thoroughbred rescue horse. Her sire, Yankee Mon, is the number 1 sire thoroughbred race horse in the state of Maryland. Lastly, Wind Walker ridden by Caitlin Gooch, is a quarter horse. His sire, Artful Move, is the all-time leading sire of Hunter Under saddle horses. Wind Walker was purposely placed to run last as he is the alpha of the herd. "Leaders can't be first, we have to lead" Lockamy's reasoning behind this placement.
Knowing the bloodlines and background of each horse, as he raised most of them from yearlings, also plays a part in determining their position. The first and last horses are tall and must run wide to maximize their speed. The 2nd and 3rd horses are shorter which allows them to run closer to the barrels. Shorter legs allow a faster take off and can be beneficial to a winning time. Running full speed, the baton is passed off from one rider to another. Handoffs are made smooth when none of the horse and rider pairs have to slow down. In order to win, the Cowgirls of Color have to keep this momentum going. Lockamy believes, "to bring the best out of the horse, it takes the right rider."