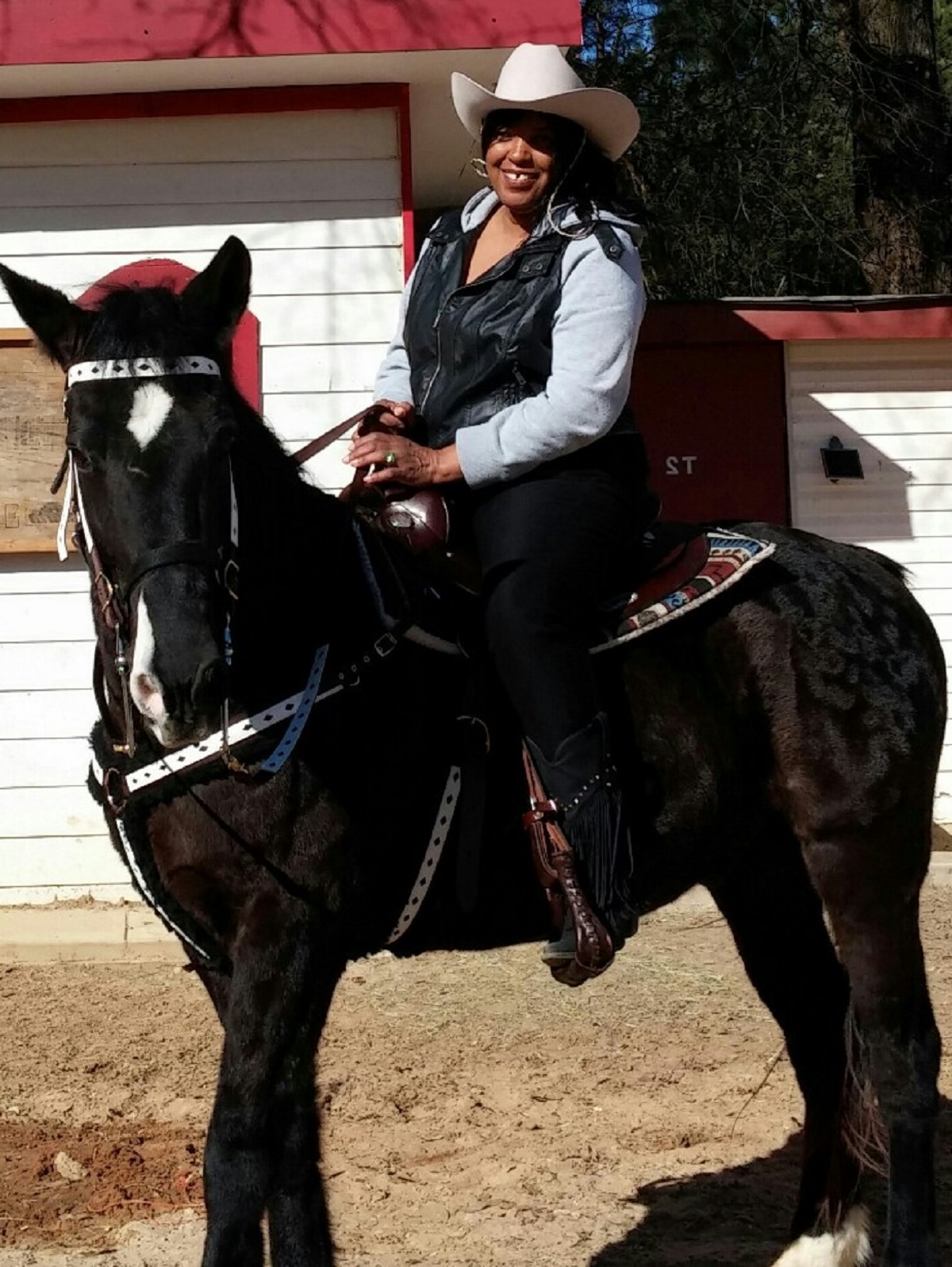 By Stanford Moore
Redefining Me – Living Outside The Box
The 50th birthday celebration for Chicago native, Lisa McKinzie, was a day marked with new goals and aspirations. After 38 years of smoking and a diagnosis of a mild case of emphysema, Lisa cold-turkey quit smoking.  To celebrate her smoking cessation, she decided to reward herself with a vacation. As she left her downtown Atlanta office and journeyed into the suburbs of Ellenwood, GA, something unexpected occurred; something that changed her life forever.
As so it began…
As Lisa cruised down Bouldercrest Road, she came upon a gentleman riding a horse. She rolled down the window, and boldly asked, "Hey, can I ride on your horse?" The gentleman smiled and responded, "Yes ma'am, just meet me at the gas station up ahead."  As Lisa sat on Big Mama, insisting all the while that the gentleman hold the horse perfectly still, she recalled memories from her childhood of riding a pony during a summer vacation in Texas.  She remembered loving the feeling of being on a horse.
Rather than going on the vacation that she was just minutes ago planning in her thoughts, she instead decided to pursue riding lessons. Soon she was taking lessons with Mr. Baker and Big Mama every other weekend, and in December of that year, she purchased her very own Tennessee Walking Horse and named him Thunder.  Over the course of the next couple of years, her bond with Thunder grew strong. In time, she learned to do everything required in caring for a horse—from mucking the stall to saddling up.  Best of all, she learned to ride Thunder with unflinching confidence.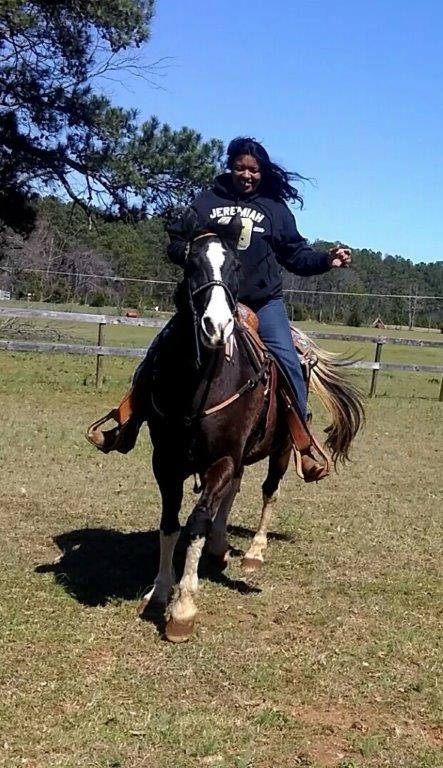 After three years of acquiring knowledge and bonding with Thunder, Lisa purchased a Quarter Horse and named him Storm. Upon learning about the agility of a Quarter Horse, Lisa began seeking adventures to explore with the horse(s).  One weekend she was headed to the GA International Horse Park for a ride, and learned that the trails were closed due to an event—a horseback archery competition!  Her excitement level soared, and she returned to the Horse Park early the next morning to actually meet with and assist some of the competitors with their preparations.  Mounted archery…She had found the challenge she and her horses needed.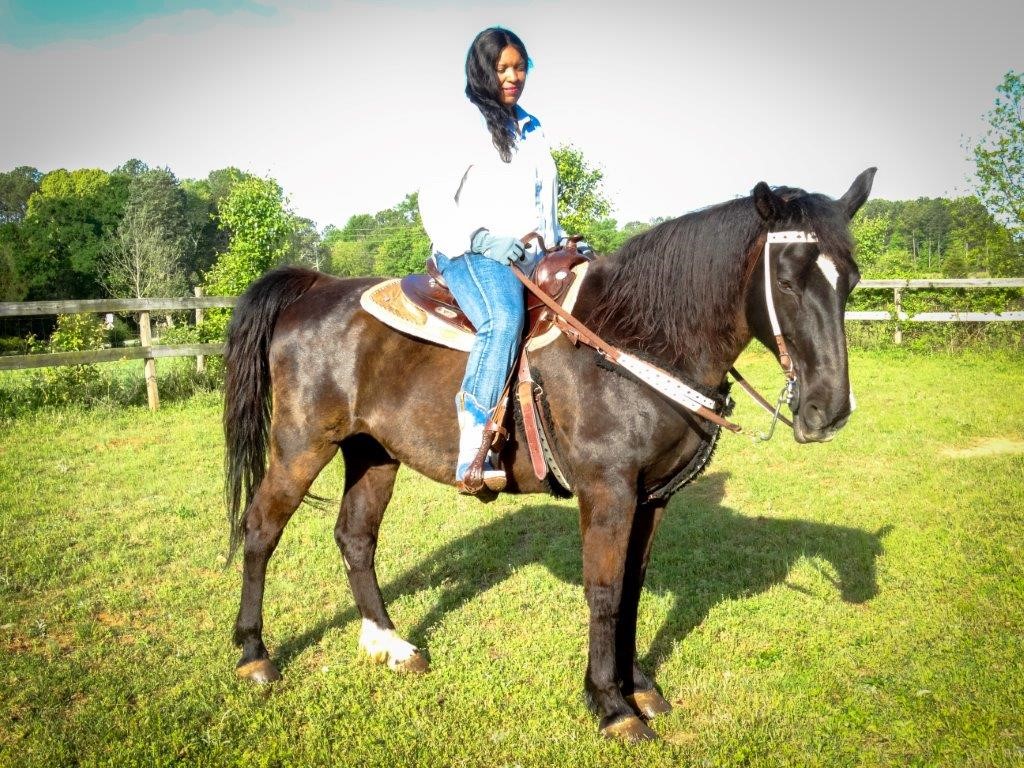 The challenge…
Although the aspiration to study mounted archery had been seeded, Lisa realized that one of the fundamentals of this sport was to become a skilled archer. Her first obstacle in the pursuit of being skilled stemmed from the fact that she had strabismus, a "lazy/crossed" eye. Although Lisa had good vision in the affected eye, the muscles were weaker, causing the eye to wander. Lisa thought that this defect would alter her ability to pinpoint the bullseye.  As with many obstacles she had faced in her life, she knew that the only way to find out was to begin the archery lessons and to then determine if it would be practical to participate in the sport. Having the mentality that the "mind is the battlefield," Lisa surmised that her reservations and inhibitions were not strong enough to prevent her from partaking in field archery. After quickly advancing to an "intermediate" field archer, Lisa signed up for and attended a mounted archery clinic. Under the direction of Elizabeth Tinnan of Chattahoochee Horse Archers, she soon began desensitizing her horses and practicing mounted archery at a walk.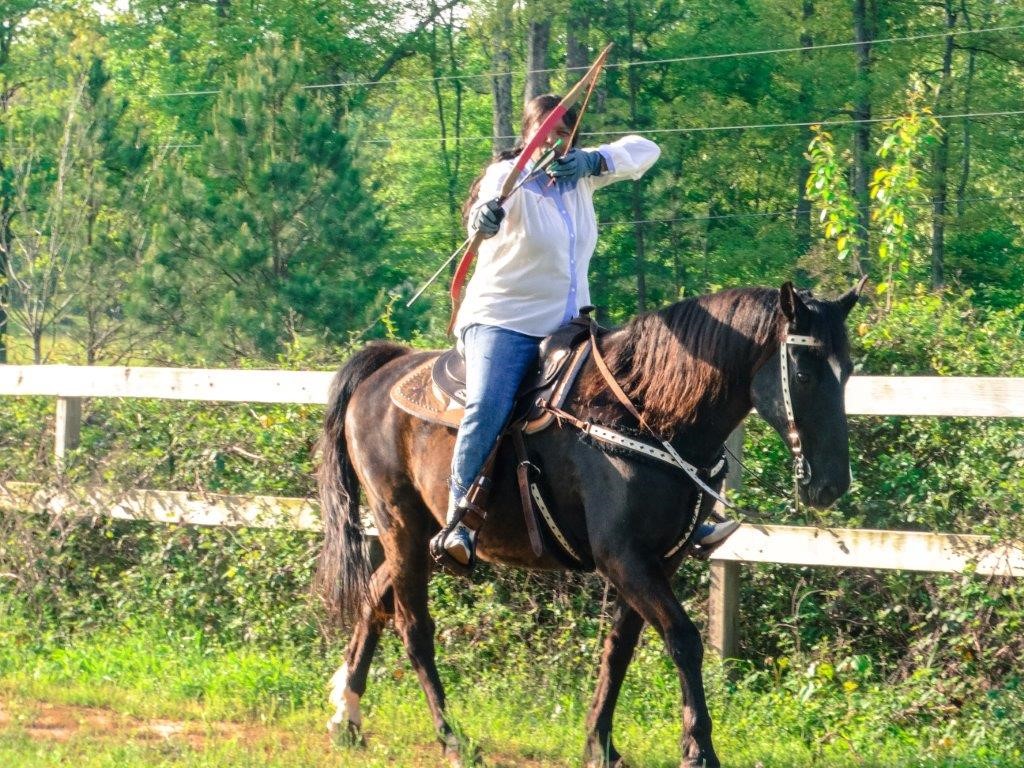 The sport…
In mounted archery, the horse and rider have separate tasks. The horse must maintain its speed—albeit a walk, trot, canter, or gallop—at a constant pace without falter. The rider is charged with guiding the horse without the use of reins, appending the arrow (without the assistance of an arrow shelf), and shooting at the target at approximately seven meters away. To complete this task, the rider must be able to hold his/her balance, become proficient in "blind nocking" (loading) the arrow, and apply his or her acquired archery skills.  To compound the challenge, occasionally the archer will have to rise from a seated position to make a shot.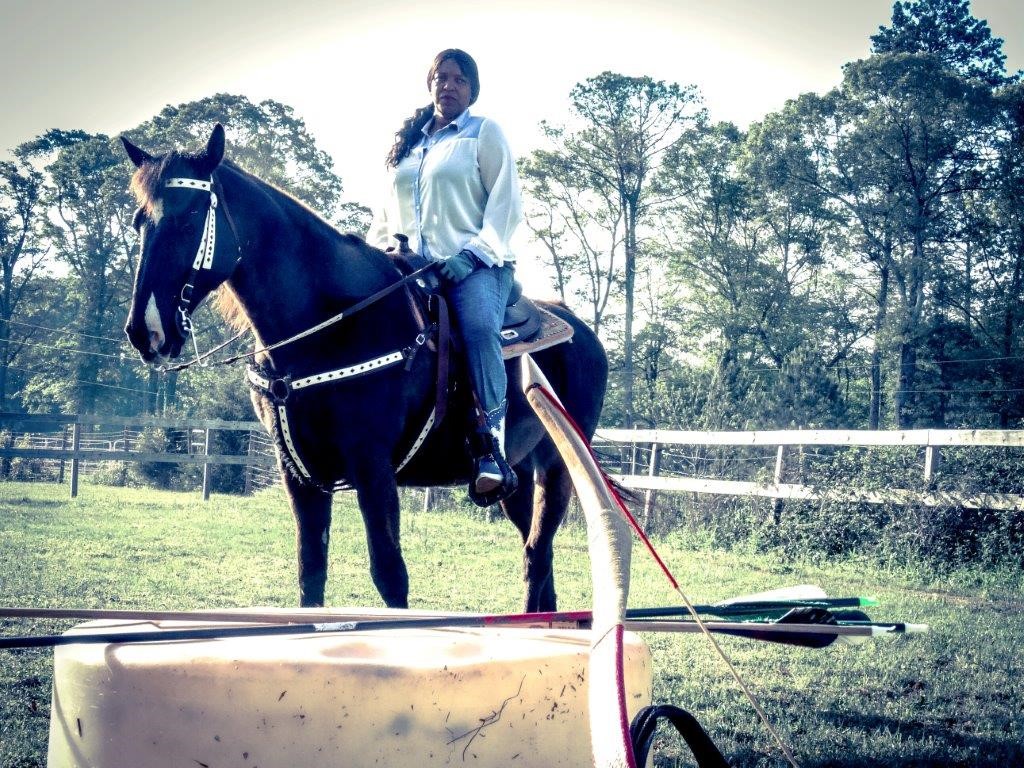 Join us…
For Lisa, horseback archery is a combination of learning the skill of archery, acquiring new riding skills, and heightening the bond of trust between the rider and the horse. This fun and competitive sport is described by many as a graceful, yet spirited, challenge for riders of all ages and riding disciplines.
If you are interested in learning more about this extraordinary sport, competing in this sport, or simply wish to challenge yourself, feel free to contact Lisa McKinzie via Facebook or Elizabeth Tinnan of Chattahoochee Horse Archers at http://www.chatthorsearchers.com.