Taeon Antonio Saunders – Southern Maryland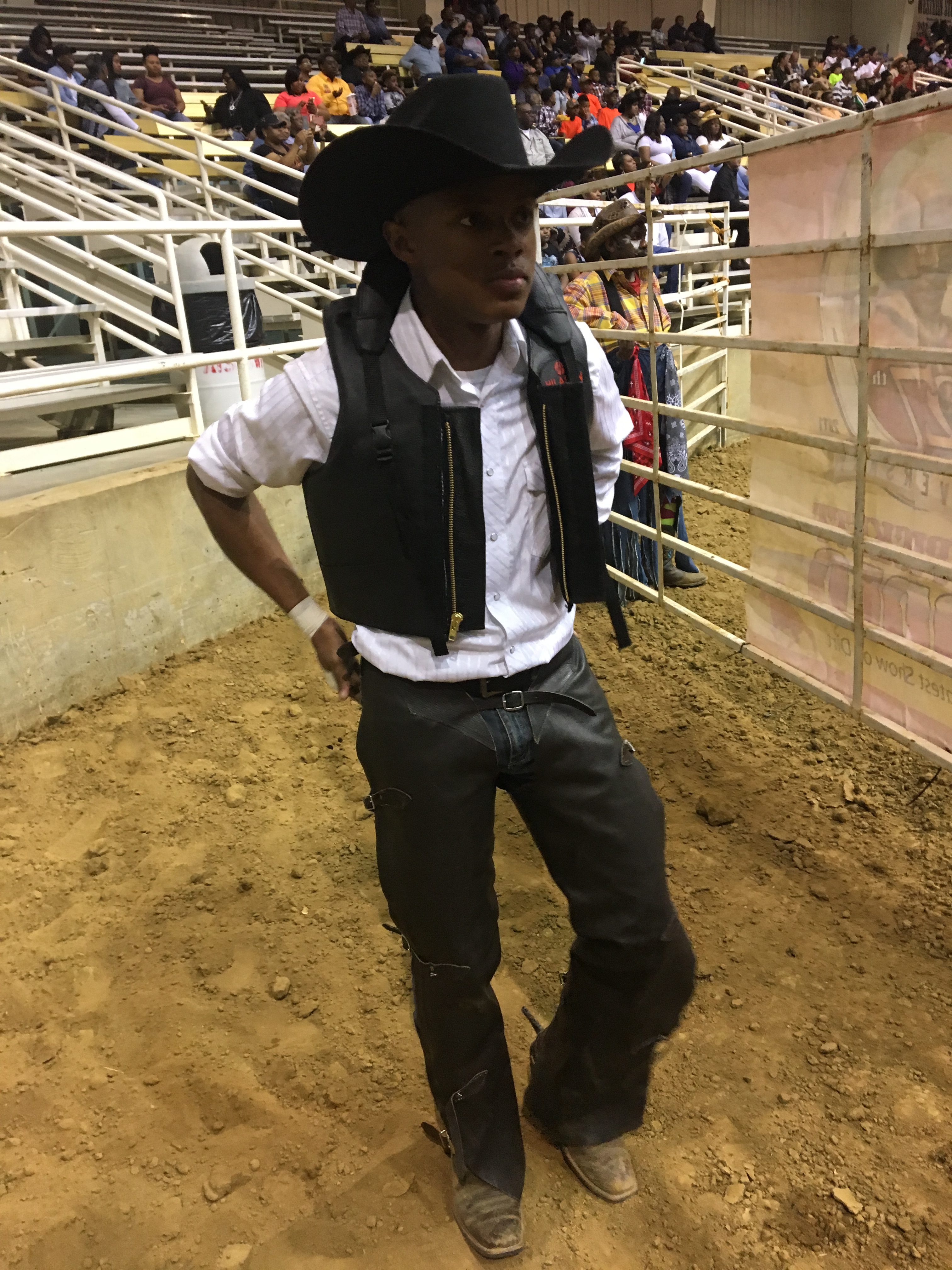 By Kelsie Akers
When I first met Taeon, he was all about roping, bull riding and bare back bronc riding. However, over the course of the next seven months he had honed his skills and received some great advice and the help from elders. Before long, Taeon had made the decision to go for it!
On April 1st in Memphis, Tennessee, he received his contestant number – 045. He was ready to go out there and put his months of training in "bareback bronc riding" into action. The Bill Pickett Rodeo, an event full of excited and eager fans cheering with a deafening pitch. Taeon was surrounded by elder Cowboys making sure he was fully supported and ready to hang on for 8 seconds.
Even though the ride wasn't perfect, he didn't let that discourage him. In social media, he vowed to hold his head high and come back again in pursuit of the prize.
True to form, he kept his word, worked hard, and in less than three months, he tried again on Saturday, June 3rd at The Black Rodeo in Richmond, Virginia. The results of his wild 8-second ride was a score of 66 points, his first check in rodeo, and a big smile on his face.
Taeon: I've always liked rodeo and my three favorite events are calf roping, bull riding and bareback broncs. I didn't really feel at home bull riding, but the first time I rode a bucking horse I immediately fell in love with it, and I've been hooked ever since.
When I realized I had made a good ride and stayed on for 8 seconds, I was pumped. I had some of my Maryland horse family there with me and it felt great to share that special moment with them and the fans. Now, I'm even more motivated to continue this season, improving as I go.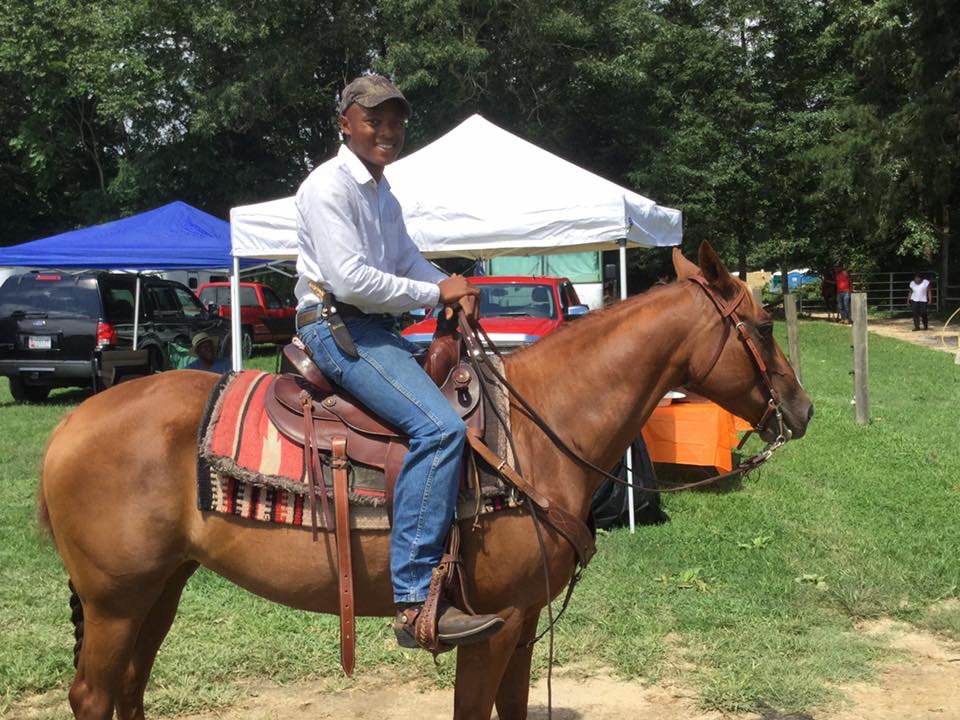 Taeon goes on trail rides often, which is a huge part of black cowgirls and cowboys culture across the nation. Trail Rides are also a huge celebration and annual reunion for many in the horsing community. Taeon loves to line dance with his friends and "cut up," as he calls it. If you ever meet him in person you'll instantly get that southern hospitality feel. It took a month to finally pin him down for a Q and A session. Let's get to know Taeon Saunders.
Q: Everyone knows having a supportive team around you is essential to success. Who is your support system?
Taeon: My support system, which consists of my family and friends who trained me, gave me moral support and helped me meet Billy Ray Thunder and Tre Hosely. They both connected me to others and pushed me to be a better person as well as a better athlete. Without them, I don't think I would've been able to bring my dreams of bareback riding to life.
Q: How old were you when you started riding?
Taeon: I started taking lessons when I was younger, about 7 or 8. Then I stopped for a while until I met one of my best friends, P.J. Warner. I started riding, again, at his barn about four years ago.
Considering how crazy and intense the sport is, what drives you?
Taeon: What drives me are my hopes of becoming a professional and getting better at the sport I love. It's been a long ride getting here to where I can participate in rodeos all over the country. I believe if I continue to improve my riding, I can eventually ride on the PRCA circuit, which would be amazing.
If you could do everything over or change anything would you? If so, what?
Taeon: I would change the age at which I started bronc riding. I definitely would've started earlier, just to gain more experience and be a lot further in my career than I am now.
Have you been injured at all?
Taeon: No, I have been fortunate enough to not have sustained any injuries so far.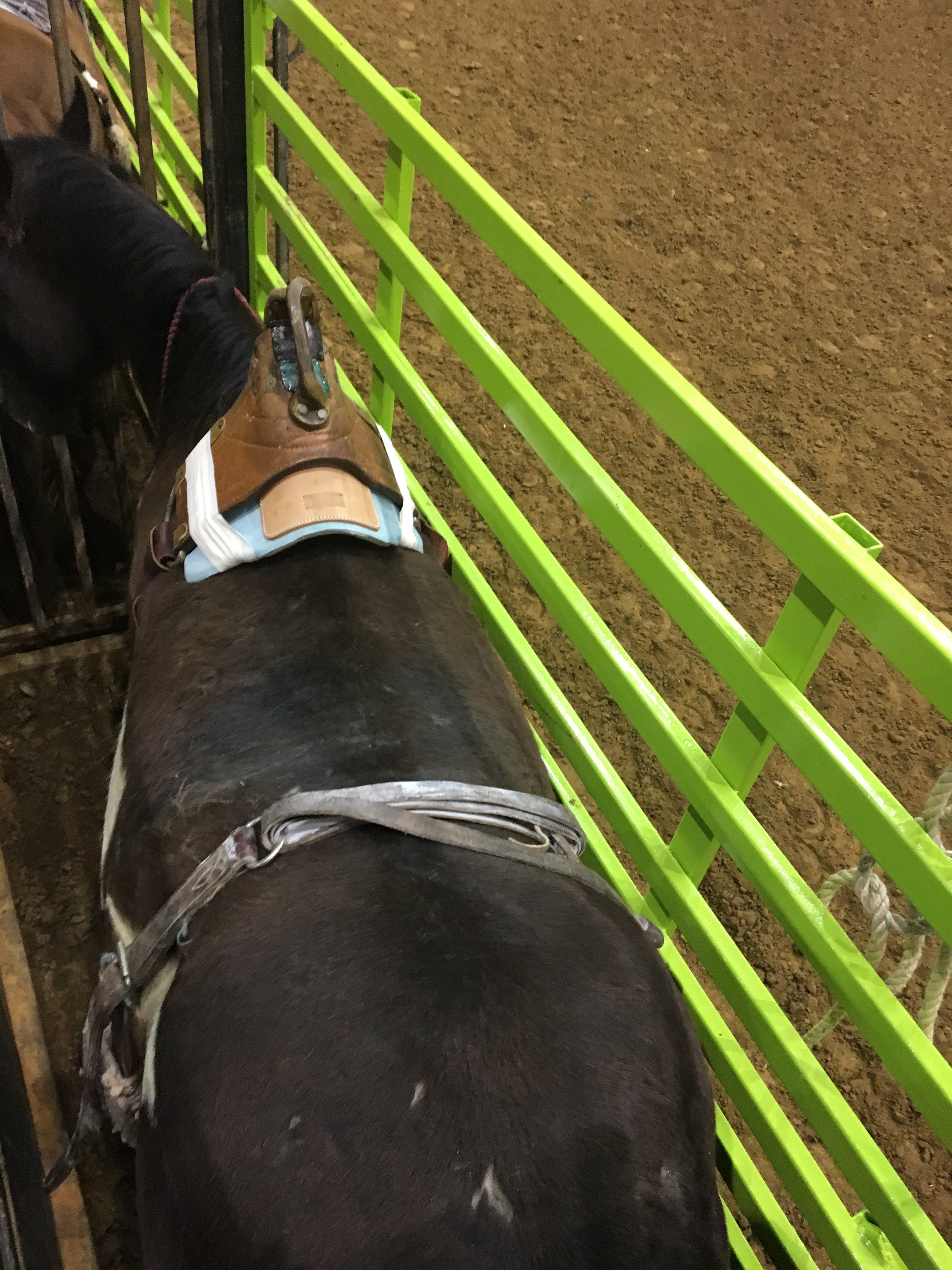 Well, that's good. What are some dangers you may face out there?
Taeon: As a bareback rider, you face a lot of dangers, not only in the show arena, but also in the practice pen. There is always a possibility of being kicked when you get off or getting hung up in your riggin'. The thought of getting hurt is always in the back of my mind, but it's the cowboy way to laugh in the face of danger.
With that said, would you say this is a sport for everyone?
Taeon: I believe this sport is not for everyone. It takes 'a special kind of crazy' to get on an over-a-thousand-pounds-of raw, athletic, untamed bucking horse and try to last for eight seconds. It also takes grit, determination and a whole hell-of-a-lot-of motivation to compete in this sport.
What do you think it takes to be the best?
Taeon: To be the best in this sport you must be willing to go the extra mile and push yourself. The way I look at it, there are thousands of guys around my age or older trying to get to the big time. That's thousands of people that are working just as hard as you or harder to get what they want, so you have to make yourself stand out.
Leading up to my first qualifying ride I was anxious and nervous because I didn't make it when I kicked off my rodeo season. But, I felt hopeful because I had made the changes necessary to improve myself for this ride. Honestly, I'm willing to do this sport until I can't physically compete anymore. Even then, I will always be around the buckin' chutes, cheering on the up-and-coming cowboys.
We appreciate Taeon taking time out of his hectic schedule to give the readers a little peek into his character. We're so excited to see Taeon rise in the ranks. We look forward to interviewing him, again, when he goes pro. With his determination, he will surely achieve his greatest dreams.
If you want to see Taeon in person you can catch him at the Bill Pickett Rodeo!